The thickened material is visible, firm and durable, safe and stable
Gently press the spring opening button to unlock and return to the 0 degrees folding state
If you need to unlock it, you can gently press the spring button to unlock it easily
90 degree multifunctional self-locking folding table leg accessories, 0-degree folding state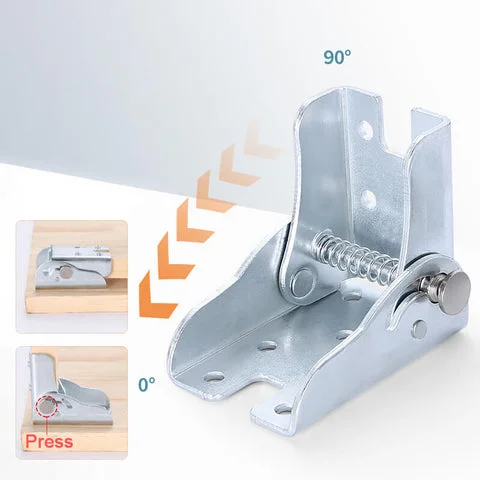 Folding hinges are very suitable for building wooden tables and have locking legs (easy to bend when unlocked)
Folding table legs big ideas in a small space: ideal for space-constrained and/or flexible applications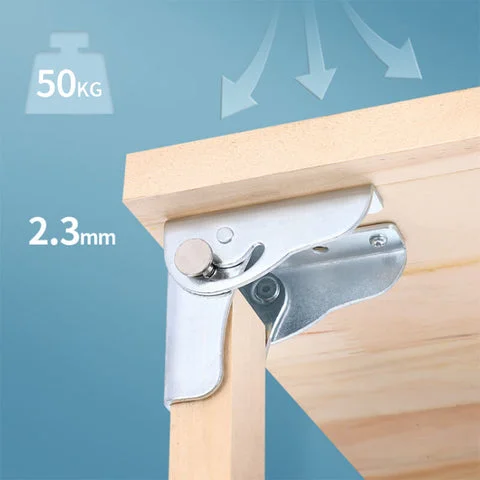 Folding bracket size
Place them on legs or tables, and use table leg hinges for DIY tables or beds, folding table items, folding table extensions, etc.

Easy to fold and self-lock
With spring activated "forced lock", one-key control locks in the open position to ensure a stable position
When you are not using a desk or workbench, just click the latch and fold down to get more space.




SOLIDLY BUILT
Made of thicken steel plate, the foldable support bracket form a sturdy structure. It adopts riveted connection and is not easy to fall apart. The galvanized coating on the surface makes it rust-resistant, allowing it to last a long time.

LOCKING MECHANISM
Designed with spring locking mechanism, this lock extension support works great. If you try to open the table, the springs automatically lock in the open position, providing extra security and stability. When the table is not in use, just press the latch and fold it down to save more space.