Whether you're a mountain biker or street rider, Spyder Inbuilt Saddle Suspension will eliminate the saddle strains and soreness that plague all cyclists! Experience the comfort of riding and maximize the performance you never had!
Even if you ride for hours on bumpy terrain, anatomical saddle conforms to you when seated and stays actively flexible to cushion impacts. Underside structures manage compression and rebound, finely balancing the saddles' flex and support.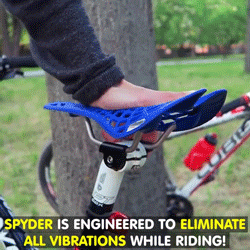 Equipped with Many holesfor ventilation, the saddle provides superb airflow and dries your sweat instantly. Stay free and dry while escalating your riding speed.
Features:
Ergonomic Design: Streamlined saddle provides optimum comfort for different riding angles, while narrow nose design reduces the rub to prevent chaffing.

Pressure Relief & Shockproof: Split-tail design distribute pressure and stays actively flexible to cushion impacts. Avoid soreness in perineum area.
Superb Breathability & Anti-Sweat: Many holes on saddle increases ventilation, providing airflow and comfort during long rides without discomfort and pain.
Versatile Applications: Perfect bicycle saddle replacement for mountain bike, BMX bikes, road bike, kids' bike, electric bike, stationary bike and more.
Specifications:
Material: Reinforced Plastic

Weight: 220g

Color: White, Yellow, Red, Green, Blue, Black

Size: 28cm * 13cm * 5cm
Package Includes:
1x Spyder Inbuilt Saddle Suspension